Protecting Tomorrow's Fishing Today

SCA Supporters

SCA State Officers
Executive President:? Mark Schultz


(Mark Schultz)
Executive Vice President:? Chuck Tylka


(Chuck Tylka)
Exec. VP of Operations:



(Clay Swetman)


Executive Treasurer:? Doug Sellers

(Doug Sellers)
General Counsel: James P. Robinson, III


(Jim Robinson)
Executive VP, Memberships: ?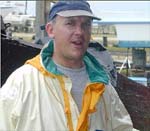 (Brad King)
?
?
?
?
?

Bay Shrimping By Catch Facts
???? If shrimp nets can catch Spanish mackerel (one of the fastest fish in the bays), sand trout (same escape response and shape as speckled trout) and black drum (same escape response as red drum) then at some level both redfish and speckled trout are being killed by shrimp nets.
???? By catch destroys important forage and bait species.