SCA's Mission:
To purchase and retire as many Bay shrimping licenses as possible.

To provide support to the Texas Parks and Wildlife Department with direct action projects, such as the Crab Trap Cleanup.

To encourage Chapters to undertake local direct action projects as decided upon by that Chapter.

To continue the Bay shrimp license buy back effort after the current TPWD legislation sunsets in 2005.

To improve the health, diversity, and productivity of Texas coastal waters through the license buy back program and direct action projects.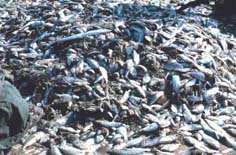 (NOAA file photo, click to enlarge)
Bay Shrimping By Catch Facts
While shrimping pressure has increased, actual production has fallen in both catch per hour and the number of marketable adult shrimp caught per hour.
TPWD estimates that there are nearly twice as many Bay shrimping boats on Texas waters than there is catch to sustain.?